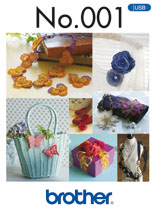 Brother Embroidery USB - Embroidery Pattern 3D
No.001
Attention: These embroidery patterns are only available on USB memory stick!
Please take care that your machine has a corresponding USB connection.
Click here for a full list of patterns included.
Create stunning, 3-dimensional embellishments for crafting, gifts, home décor and more with the 3D Lace Embellishment embroidery design kit.
This inspiring kit includes fifty-five beautiful embroidery designs on a USB memory stick, and easy-to-follow, visual instructions to make sixteen projects using these designs. The .PES files are ready for Brother machines and may be converted to other embroidery formats with most embroidery software. Creating your custom embellishments is easy – simply embroider your selected designs onto water-soluble stabilizer using your choice of embroidery thread, rinse to remove the stabilizer, and follow the instructions to sew the finished pieces together.