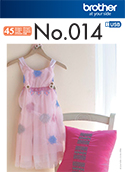 Brother Embroidery USB - Faux Smocking Embroidery
No.014
Attention: These embroidery patterns are only available on USB memory stick!
Please take care that your machine has a corresponding USB connection.
Faux Smocking Embroidery 45 designs featuring a new Faux smocking embroidery technique. Once removed from the embroidery frame the designs shrick to give a smocking effect, without the use of rubber thread.