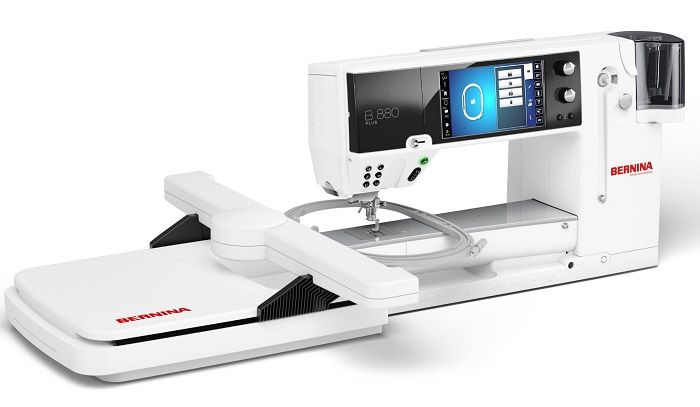 Bernina 880 Plus e

Bernina 880 Plus e

Bernina 880 Plus e

Bernina 880 Plus e
Bernina 880 Plus e

Bernina's 880 Plus E is the ultimate sewing, quilting and embroidery package. Coming with embroidery unit+ hoops, 12 feet, BSR & Free Hand system, it has 12" arm space & sews at 1200 stitches a minute. With 1764 stitch patterns inc 462 embroidery designs.

£8,000.00

The Bernina 880 Plus E is Bernina's top of the range offering for sewing, quilting and embroidery. It offers so much more: more features, more space and more options!
The B880 Plus E comes with the Bernina Smart Drive Technology (SDT) embroidery module. This module gives you a large embroidery area and comes with 3 embroidery hoops and embroidery presser foot #26, plus access to embroidery software. The new improved module also offers enhanced stitch quality at up to 55% higher speeds, with quieter and smoother operation.
This machine is designed to handle anything you wish to create, froim the most detailed and intricate embroidery work to the largest home décor projects. It has an amazing extended work space of 12" to the right of the needle, meaning large projects can be handled with ease. There's also a slide-on freearm extension table for even more room and support. The Bernina Stitch Regulator (BSR) foot which comes with this machine is perfect for free motion work, producing neat, consistent stitching with stitches (straight or zigzag) of precisely the same length while free-motion sewing. An amazing range of 12 Bernina presser feet come with the B880 Plus E, giving you a wide range of creative options. A well-designed magnetic accessory box is included with the accessory package.
The B880 Plus E has an extensive stitch and design library, with a total of 1764 stitch patterns, including 40 utility stitches, 630 decorative stitches, 109 sideways motion stitches, 20 buttonholes and 11 sewing alphabets. There are 462 embroidery designs and 21 embroidery alphabets, plus monograms. You set the stitch length and width (the maximum stitch width of 9mm is ideal for creating decorative stitches) and alter stitch density. It even has a sideways motion feed and offers 360 degree sewing. This amazing machine can sew at an amazing 1200 stitches per minute, and embroider at up to 1000 stitches per minute.
The enhanced editing functions of this machine allow you to realise your ideas directly on screen and use your creativity to create new designs. Stitches can be combined or edited, and saved in memory, and stitch settings can be changed while sewing. Stitches can even be mirrored or distorted. Specialised embroidery functions include pinpoint placement, undo/redo, endless embroidery, thread away, group/ungroup, invisible/smart secure, and many more. You can mirror, rotate, combine and resize motifs. The machine will automatically recognise the hoop and stitch out area. Stitches and designs can be saved and imported or exported via the USB options. You can combine alphabets with embroidery or even create curved lettering effects. A large range of optional embroidery accessories and software are available to purchase, so the machine can grow with your expertise and ambitions.
Bernina Dual Feed ensures fabric is evenly fed from above and below, giving great results on hard to manage fabrics. It is easy to engage, and tucks away when not in use. This machine also has 3 spool holders for your threads, and a jumbo bobbin that holds up to 70% more thread than standard bobbins, which means fewer stops and starts with your sewing. And since it is conveniently changed from the front, there's no need to remove your project.
Tutorials guide you visually through various functions, and further guidance is available via the Creative Embroidery Consultant software. All this control is close to hand and easy to use, with the large, intuitive touch screen and multi-function knobs on the front of the machine. 30 LED lights ensure your working area is well-illuminated at all times.
The B880 Plus E has so many helpful features. The Bernina Free Hand System (FHS) capability is built in, with the knee lifter included in the accessory package, allowing you to keep your hands on your project at all timee. The programmable foot control also gives you more options. The automatic thread cutter is another useful function of this machine, cutting the thread and raising the needle in an easy one-button operation. The presser foot lowers automatically at the beginning of a seam. Fully-automatic needle threading makes this fiddly task so very easy!
The Bernina 880 Plus E really will allow you to create anything you set your mind to. This top of the range machine will give you top quality results!
Why buy a machine from us?
Exeter Sewing Machine Company is an independent, family-owned business based in the centre of Exeter, Devon which has been in business for over 70 years. We sell Brother, Janome, Bernina, Baby Lock and Husqvarna machines along with their accessories, with the full back-up and support you would expect from a local family business.
Our independence and experience mean we can provide an unbiased opinion and advice to help you choose the right machine for you. When the store is open we offer free machine demonstrations, meaning that you can see and even try the machines before making your decision.
Jump to:
For full specification details and tutorial videos please see the Bernina 880 Plus e page on the Bernina website
See this Bernina video for a demonstration of what is possible using the SDT embroidery module

1764 stitch patterns (including alphabets)
40 utility stitches
630 decorative stitches inc heirloom, floral, children / novelty patterns
109 sideways motion stitch pattersn
462 embroidery designs / 21 embroidery alphabets
20 buttonholes
11 sewing alphabets
Monograms (inc with sideways motion)
Up to 1200 stitches per minute sewing, 1000 embroidery
Create your own stitches with Stitch Designer
12 feet & 3 hoops included (optional extra hoops available)
Automatic hoop recognition
3 spool holders
Extended free arm - 12" to right of needle
400 x 260mm (15.7" x 10.2") maximum embroidery area
8 series rotary hook
Free arm with slide on extension table
Bernina Smart Drive Technology (SDT) embroidery module included (comes with 3x hoops and embroidery presser foot)
Bernina Stitch Regulator (BSR) included - for free motion quilting and sewing
Free Hand System (FHS) enabled (knee lift bar included)
360° directional sewing & Sideways motion feed
Basting
Endless embroidery
Shape Designer
Colour Wheel
Stitch Elongation / Distortion / Pattern mirroring features
Thread Away / Smart Secure / Invisible Secure thread management functions
Pinpoint placement, Rearrange motifs, Group/Ungroup & Undo/redo
Frontloading Jumbo Bobbin with 70% more thread
Adjustable presser foot pressure
Start/stop button
Bernina Dual Feed
Upper/lower thread indicator
Bobbin winding while sewing/embroidering
Automatic thread cutter
Fully-automatic needle threader
Sewing Consultant & tutorials on-screen help
Artlink Embroidery Consultant software link included
Compatible with Bernina embroidery software / PunchWork Tool / DesignWorks software & tool
7" colour touch screen
30 LED lights
USB interface for PC and data stick
Foot control with back-kick function
Machine size (mm): 578 x 227 x 360
Machine weight (kg): 16

Bernina Stitch Regulator (BSR)
Bernina Smart Drive Technology (SDT) embroidery module
Reverse-pattern foot #1C
Reverse-pattern foot #1D
Overlock foot #2A
Buttonhole foot with slide #3A
Buttonhole foot #3C
Zipper foot #4D
Blindstitch foot #5
Button sew-on foot #18
Open embroidery foot #20C
Drop-shaped embroidery foot #26
Sideways motion foot #40C
Slide-on free-arm extension table
Knee lifter for Free-Hand System (FHS)
Embroidery hoop large oval with template (10.0"×5.7"/255×145 mm)
Embroidery hoop medium oval with template ( 5.1"×3.9"/130×100 mm)
Embroidery hoop small oval with template (2.8"x2" / 72x50 mm)
Bernina embroidery software ArtLink (download at bernina.com)
5 bobbins
Manual threader
Wire threader for threading cord for bobbin play
Magnifying glass adapter/spool holder
Tweezers
Selection of needles
Small spool disc
Cone holder for king-size spools
2 spool nets
Seam ripper
Height compensation tool
Monitoring mirror
Hook cleaning tool
Grey Torx screwdriver
Brush
Multifunction tool (used for opening the service cover, inserting the needle and the setting of the underthreaded tension.
Lubricator
Thread guide and lubricating unit
Magnetic accessory box
Power cable
Foot control
Soft cover with pocket

Smart Drive Technology
The Bernina Smart Drive Technology (SDT) 7 series embroidery module turns an embroidery-capable Bernina sewing machine into an amazing embroidery machine, allowing precise and stunning embroidery results to be achieved in the blink of an eye.The new Smart Drive Technology gives an embroidery speed increased by up to 60%, with a smoother movement and less vibration and noise.
Bernina Stich Regulator (BSR)
The BSR foot is more than just a presser foot; it produces neat, consistent stitching with stitches of precisely the same length while free-motion sewing. It reacts to the fabric's movement and adjusts the machine speed to match! It regulates perfect, equal-length straight and zigzag stitches at variable sewing speeds to give top quality results to your free-motion quilting.
Bernina Free Hand System (FHS)
With FHS you can raise or lower the presser foot while simultaneously lowering the feed dog without having to take your hands off the fabric, ideal for quilting
Programmable foot control
The foot control is programmable, allowing you the option to knot and cut threads as well as raise the presser foot with a press of your heel, in one operation tailored to your individual requirements.
Colour Wheel
Designs can be changed easily and coordinated to your favourite colour scheme before you start embroudering. The Colour Wheel makes it easy to choose the most beautiful colours for your project.
Pinpoint Placement & Lock function
Placing embroidery perfectly is easy on the B880 Plus e. Simply select two points on the screen and match them with the markings on the hooped fabric. Your design is automatically aligned, rotated, resized and positioned to fit. Plus you have full visibility of the hooped fabric at all times.The Lock helps to maintain the size of your design size during positioning.
Group/Ungroup
Combine embroidery designs to edit all at one time with the Group feature. Break apart designs to edit individually using the Ungroup feature. Change the stitch out sequence of design layers. Use Rearrange in combination with Group and Ungroup for further editing possibilities
Thread Away mode
Thread Away mode is a swift movement of the hoop that pulls most of the upper thread tails to the underside for clean embroidery results on the top
Invisible Secure & Smart Secure
Invisible Secure makes the perfected tie-on/off fomration completely invisible while Smart Secure adds tie-on/off stitches if none are pre-programmed. It's like having your own embroidery fairy!
On-screen design editing, with assistance
The B880 Plus e allows design edits directly on the screen during embroidery. Rotate, mirror, combine and rearrange with a simple touch of the screen. The Undo/Redo lets you easily go single steps back or forward while Group & Ungroup lets you edit all at once or indidivually. The Embroidery Consultant provides help, tips and tricks
Stitch Designer
Create your own stitches by drawing your idea straight onto the touch screen. With a click, the B880 Plus e transforms your design into a stitch pattern or alters existing stitches as you wish. Save your very own stitch creations to expand your stitch library.
Shape Designer
The integrated Shape Designer offers you functions such as duplicating embroidery designs with one click, and arranging designs in any formation you want, for example a circle, square or heart.
Magnifying glass adapter/spool holder
The practical Magnifying-lens set enhances your view of the working area. The three lenses have magnification factors of 1.25, 1.5 and 2, making it easier to thread the needle and sew tricky areas. The set can also be used with a hand holder as a practical reading lens.
On Screen assistance
There are many tools buily into the B880 Plus e to help you with your sewing and embroidery. The sewing advisor offers on-screen support in selecting the appropriate stitch, choosing the right needle/thread/foot/stabiliser, and making the necessary adjustments for the desired sewing and embroidery application. Tutorials demonstrate important steps. Whether you want to thread the needle, thread the bobbin, or activate the Bernina Dual Feed, simple animated instructions will show you what to do.