STAFF PROJECTS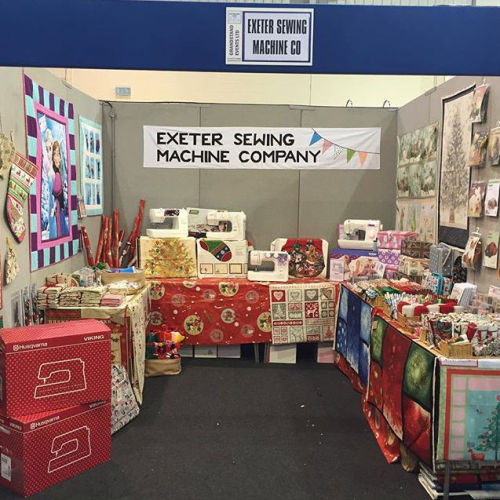 Our stand at the Christmas Shopping Fayre looked beautiful! It was Chris' first time setting up alone and it we think it's great!

Jenna is one busy quilter bee as usual. With The Walking Dead quilt finished she moved onto her Disney Frozen quilt! We love the back of her The Walking Dead quilt just as much as we love the front! You can see both of these quilts hanging proudly in the shop.

As part of her City and Guilds course she is always trying out new techniques and styles. Her colour wheel is made up of fabric that she has dyed herself! Keep an eye peeled for some amazing designs coming with the Kaffe Fassett strip fabric!

You can tell how addicted to quilting Jenna is by her need to paper piece where ever she goes.

Tara has been flexing her dress-making muscles recently and has been making some knock-out pieces! Chris was the lucky one to receive the gingerbread man shirt. The Dashwood studio shirt looks super festive and her The Walking Dead top is a show stopper.

Her husband is finally the proud owner of this Monster inc quilt, which took a while to complete with the hand sewing on the binding! Tara found a new love in cross stitch thanks to our evening with Mr X Stitch and has made her lucky nieces some beautiful Christmas presents!

Sasha is continuing the quilting theme with her work-in-progress Christmas quilt! Her finished Angel advent panel can be spotted in the fabric cellar and she has brushed up on her applique skills with shadow applique seaweed!

With Christmas being her favourite time of year there is no wonder she is busy making! Earrings out of buttons, cross stitched houses and seasonal saying have been keeping her busy and in the festive spirit.
You can keep up-to-date with all of our personal projects on our instagram pages! Chris - @sewingshopbloke Jenna - @littlejennawren Tara - @teenagerebeloftheweek and Sasha is @sashacole.
Happy sewing everyone!