Shibori - Traditional Methods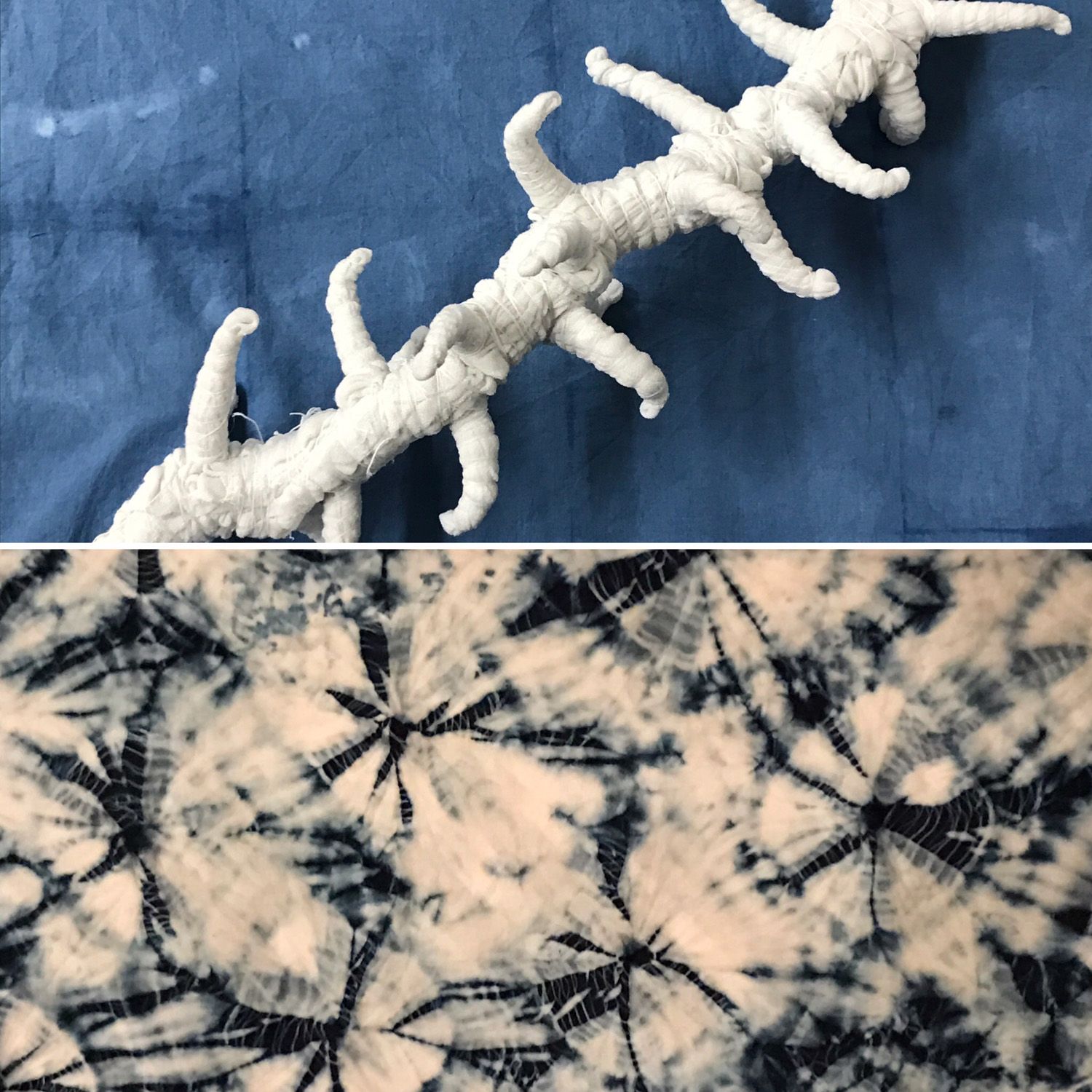 This course follows on from our Beginners Shibori workshop. You will learn a range of traditional shibori patterns using stitched and bound resist techiniques, before dyeing your work in a pre-prepared Indigo vat.
Note: This is the same workshop as the previous 'Intermediate Shibori' workshop.
During the course you will learn:


Two techniques using a rope core, known as 'Shin Ire' shibori – 'Hinode' (creates a pattern resembling a series of suns with rays) and 'Yanagi' (creates a pattern resembling willow leaves).

Pleating and beading techniques around a core.

The traditional 'Takewaku' (rising steam pattern) and 'Komasu' (diamonds pattern) techniques.

You can then take home your pieces which can be used for other projects (e.g. patchwork, cushions, lampshades).
ABOUT THE TUTOR:
Rob Jones is a Textile Designer specialising in the Japanese resist dyeing technique 'Shibori', meaning to wring or to squeeze. Having discovered shibori at West Dean College, Rob went on to study in Japan under indigo dye guru Bryan Whitehead. His passion lies in finding the new in the old, building on the tradition and centuries of skill that shibori has behind it. Rob will be bringing along samples of his work to the workshop (some of which will be available for purchase), as well as Shibori books should anyone wish to continue their practice at home.
WHAT DO I NEED TO BRING TO THE CLASS?
The class price includes the use of the indigo dye and special threads and tools needed.
You will need to bring some fabric and basic accessories - a full list will be emailed to you when you book onto the class, or you can contact us at the shop for more details.
NEXT CLASS DATES
PLEASE NOTE THAT ALL CLASSES ARE SUSPENDED UNTIL FURTHER NOTICE DUE TO THE CORONAVIRUS PANDEMIC.
We are currently unable to give future dates or take bookings whilst things remain uncertain.
Thank you for your patience during this time.