REVERSE APPLIQUE with Abbieanne Searle
£45 one-day workshop, 10am - 4pm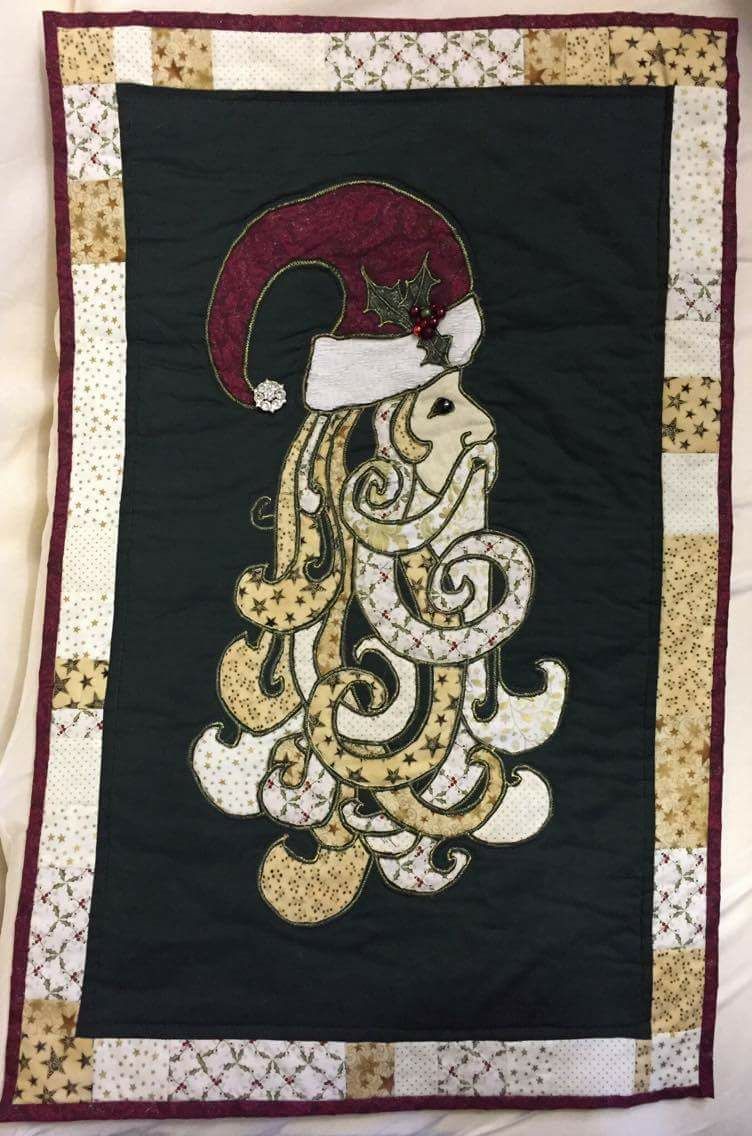 (Some materials and equipment required - see below for details)
Learn how to create reverse applique whilst making a festive wall hanging. This is a fast, fun technique that provides amazing therapy with a pair of scissors!
Abbieanne Searle is a local textile artist and tutor who enjoys encourages her students to play with colour, fabric and their own imagination! During this class you will make a festive Father Christmas wall hanging, Abbie's own design, whilst learning how to manipulate the fabric through reverse appliqué.
This class is suitable for all abilities, and includes plenty of curvy machine sewing to practise on.
WHAT DO I NEED TO BRING TO THE CLASS?
Fabrics:
1 piece of dark green cotton fabric measuring 17" x 28" for the background

Between 4-7 pieces of cream fabric, each measuring at least 13" x 18" for the beard (these can be any type of fabric)

1 piece of red fabric measuring 12" x 16" for the hat (can be any type of fabric - perhaps plush!)

1 piece of green fabric measuring 10" x 10" for the holly

1 piece of fabric measuring 22" x 33" for the backing and binding (if you want a separate binding you will need to allow extra of a different fabric)
You will use scraps from the main work to make the border, but you may want to bring a few more pieces of 'just in case' fabrics!

You will also need to bring the following equipment:
Sewing machine - including a new needle
Threads to suit the fabrics and project (Abbie uses a gold metallic thread)

Metallic needle for the sewing machine if using metallic thread
General sewing kit
A pair of small sharp pointy scissors - these are very important for the technique
Red beads for the holly berries
NEXT CLASS DATES:
Saturday 7th October 2017

TO BOOK PLEASE CALL OUR SHOP ON 01392 275660