PARTRIDGE IN A PEAR TREE with Abbie Anne Searle
£45 one-day workshop, 10am - 4pm (plus £3.00 to be paid to the tutor on the day)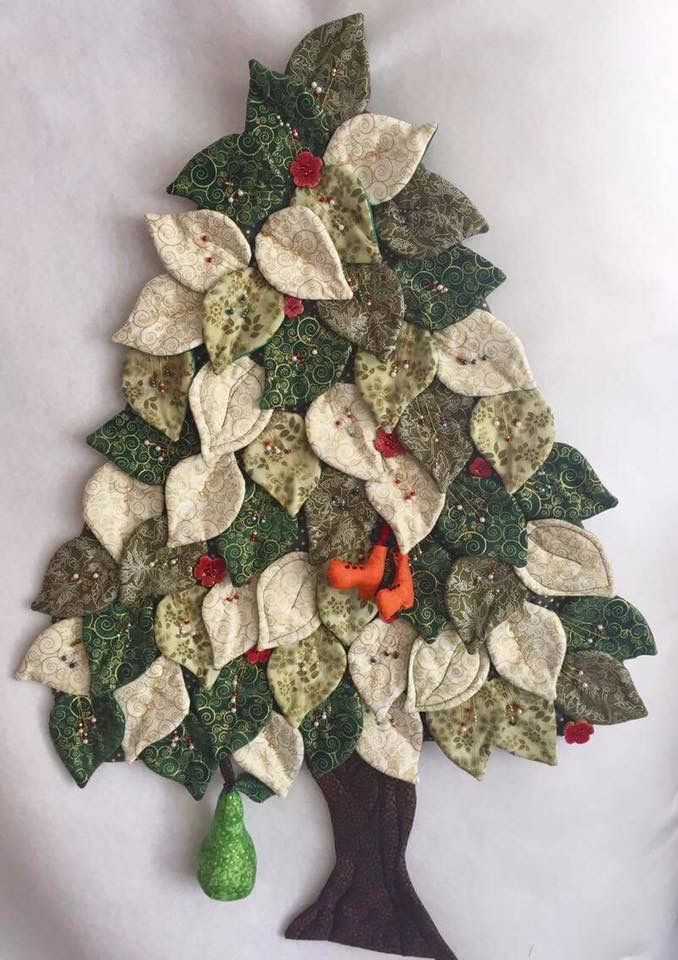 (Some materials and equipment required - see below for details)
Abbie Anne Searle is a local textile artist and tutor who enjoys encouraging her students to play with colour, fabric and their own imagination!
During this class you will start making a 'Partridge in a Pear Tree' wall hanging, Abbie's own design. (Too early for Christmas crafts? Simply use non-Christmasy fabrics to turn it into a regular tree!). You will make the component parts during the class, ready for assembling at home.
WHAT DO I NEED TO BRING TO THE CLASS?
Fabrics:
1 metre green fabric (for the tree underneath the leaves)

Wadding: 18" x 20" (for the tree)

Wadding: approx 45" x 50" (for the leaves - can be made up for scraps)

4 fat quarters of different Christmas fabrics

1 metre fabric (for backing the leaves - Abbie uses a plain green)

Fat ⅛th of brown fabric (for the tree trunk)

Scrap of orange fabric (for the boots)

Scrap of red fabric (for the legs)

Fat ⅛th of green fabric (for the pear)

Minimal amount of toy stuffing (for the boots, legs and pear)

Threads to suit the project (Abbie uses green and gold)

Selection of small beads (Abbie uses gold, pearl, red and green)

Red flower buttons (Abbie uses five 25mm buttons and three 18mm buttons)

Twelve black small bugle buttons (for the boots)

You will also need to bring the following equipment:
Sewing machine - including a new needle

Walking foot (if you have one)

General sewing kit

Scissors, both large and trimming size

Fabric marker

Thin item for turning things through (a thing knitting needle, crochet hook or pencil will do the job!)

Please note: There will be an additional charge of £3.00 on the day, to be paid (in cash please) directly to the tutor - this is for your own copy of her pattern and instructions.
NEXT CLASS DATES:
Saturday 12th May 2018
TO BOOK PLEASE CALL OUR SHOP ON 01392 275660