OUR TEACHERS
We run a variety of one-day workshops throughout the year in our two classrooms. Our three main teachers specialise in getting to know your sewing machine, patchwork and quilting, applique, machine embroidery, pattern cutting and overlocking. We also run a range of different special classes using guest tutors throughout the year, ranging from bag-making to pictorial design.
You can view all of our workshops here.
Jenna's love of craft began in childhood, when her mum taught her how to cross stitch at the age of two. By the time she was seven, she was making soft toys using a Singer Futura sewing machine.
Jenna runs our flagship 'Know Your Sewing Machine' class, as well as all of our patchwork and quilting classes. She enjoys sharing her passion for craft and firmly believes that sewing is good for the soul.
As a qualified teacher, Jenna has a Teaching Certificate in Training and Adult Education. She is currently studying for her City & Guilds Level 3 in Design and Craft, specialising in Patchwork and Quilting.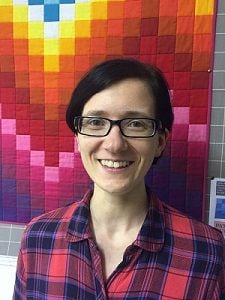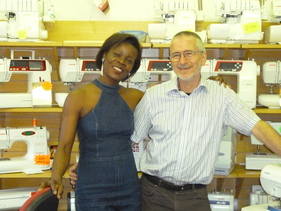 A well-known name in the local sewing community, Janet Williams has been dressmaking for over forty years. After completing high school she obtained a teaching certificate, followed by a degree in Theatre Arts. In 1989, she attended Kensington and Chelsea College of Fashion and Design, completing a course in Pattern Cutting, Millinery and Fashion Accessories.
Janet has been teaching since 1980 and has a phenomenal knowledge of dressmaking, pattern cutting and overlockers. She firmly believes in continuously improving one's own knowledge, because "there's always something new to learn".

Liz has enjoyed all aspects of sewing for many years, but her real love is machine embroidery, from using the decorative stitches in her machine to full-scale computerised machine embroidery.
In 2014 Liz printed her first book, 'The Complete Machine Embroidery Manual'. She teaches all our computerised machine embroidery classes, from those that help beginners get confident with their machine, to using specialised fabrics and creative techniques.
Liz also runs our classes on Free Motion Embroidery - commonly known as one of the most addictive and exciting sewing techniques around!