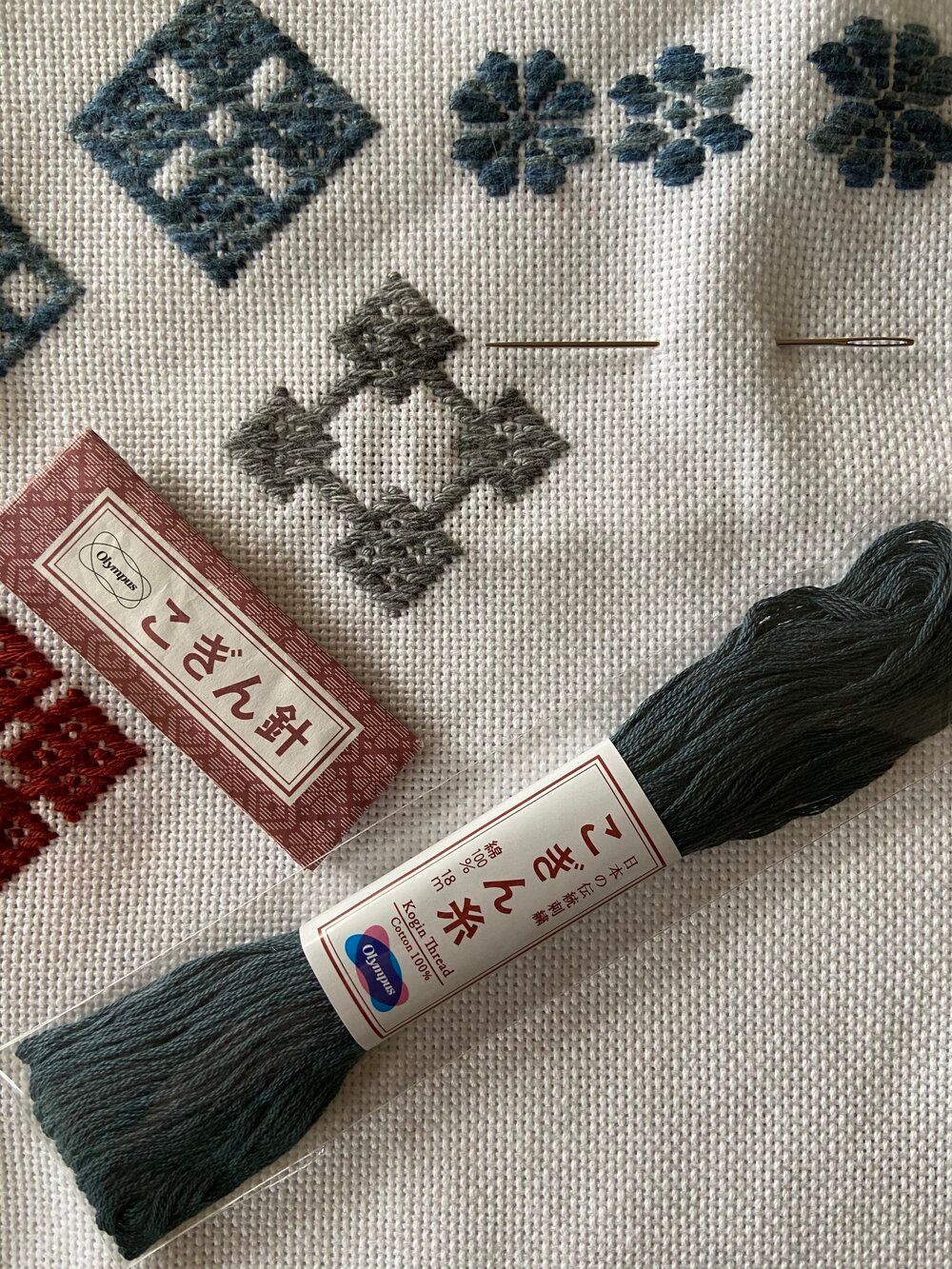 Kogin embroidery is a type of Sashiko, originating in the Northern part of Japan, in Aomori prefecture. A type of counted thread work, it is stitched on a open weave fabric from side to side typically using an uneven number of threads, to make up geometric, symmetrical patterns.
The name "Kogin" derives from the Japanese word "koginu", "ko" being "small" and ginu meaning "wear", the name of a long Japanese jacket, which was often decorated with this technique.
During the course you will learn about
• How to form the three basic length stitches and count threads
• Where to start and how to neatly tidy your starting and ending threads on the back of your piece
• The rights and wrongs of turning corners, crossing lines and intersections
• Starting with a number of small patterns to get used to the stitching you will then work on a larger, more involved pattern using a template provided
• How to finish your work so it looks neat on the back
• Information will be provided about how to make your own designs
ABOUT THE TUTOR
Rob Jones is a Textile Designer specialising in the Japanese resist dyeing technique 'Shibori', meaning to wring or to squeeze. Having discovered shibori at West Dean College, Rob went on to study in Japan under indigo dye guru Bryan Whitehead. His passion lies in finding the new in the old, building on the tradition and centuries of skill behind Japanese textiles. Rob will be bringing along samples of his work to the workshop (some of which will be available for purchase).
CLASS LEVEL: BEGINNER
This class requires no prior knowledge and is perfect for beginners.
NEXT CLASS DATES:
PLEASE NOTE THAT ALL CLASSES ARE SUSPENDED UNTIL FURTHER NOTICE DUE TO THE CORONAVIRUS PANDEMIC.
We are currently unable to give future dates or take bookings whilst things remain uncertain.
Thank you for your patience during this time.