INTRODUCTION TO WEAVING with Louise Cottey
FOR MORE INFORMATION AND ALL BOOKINGS, PLEASE VISIT LOUISE COTTEY'S WEBSITE: http://www.louisecotteytextiles.co.uk
£65 one-day class, 10am - 4pm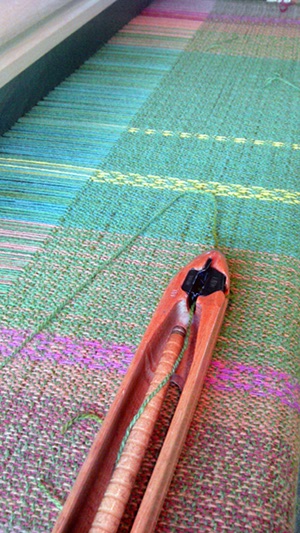 Louise Cottey is a local textile artist who specialises in hand weaving. Influenced by the Westcountry landscape, her pieces reflect the colours, textures and patterns around her. Each piece tends to have a narrative; they speak about their inspiration, how they were made and from what.
During this workshop you will learn how to set up a rigid heddle loom from scratch and weave a small piece of fabric well. Perfect for beginners because you'll learn all the skills you need to get started with weaving.
NEXT CLASS DATES:
Saturday 11th February 2017

Please note that all enquiries and bookings should be made via the tutor, Louise Cottey.
You can contact Louise via her website: http://www.louisecotteytextiles.co.uk