FREE MOTION EMBROIDERY BOWLS
£40 one-day class, 10am - 3pm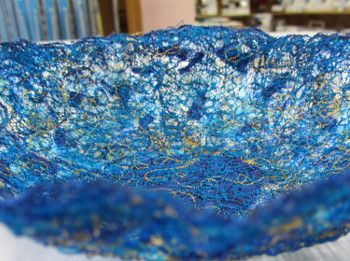 Find out how to use water soluble stabiliser and free motion embroidery to make a free-standing decorative bowl.
The course is perfect for people who have already taken Liz's free motion embroidery beginner's course and would like to continue experimenting with the craft.
During the class, you will find out how to combine water soluble stabiliser with free motion embroidery to make a free-standing bowl. By trapping all sorts of delicious fabrics, ribbons, threads and glittery pieces between your stitches, you will create a unique textile piece and then learn how to shape it into a decorative bowl.
The techniques you will learn about include:
Using water soluble stabiliser

Please note: To allow you to gain the most from this class, it is preferred that you have attended our Free Motion Embroidery for Beginners class first.
WHAT DO I NEED TO BRING TO THE CLASS?
You will need to bring the following items with you:
Sewing machine - including its accessories and tools

Free motion embroidery foot - to fit your machine
Embroidery sewing machine needles (size 75 or 90)

Dessert bowl with a rough diameter of 8 inches (give or take an inch!)
Machine instruction manual
Everything else, including the rest of materials and threads for the project, will be provided.
NEXT CLASS DATES:
Further dates coming soon
TO BOOK PLEASE CALL OUR SHOP ON 01392 275660