FREE MOTION EMBROIDERY FOR BEGINNERS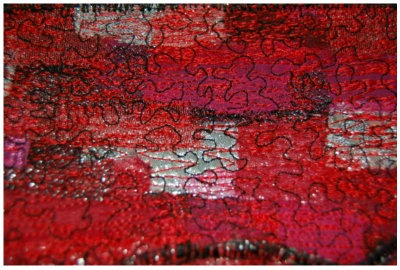 Did you know that you can draw with your sewing machine? Find out all of the necessary skills to embark on a journey of discovery with free motion embroidery!

This class covers all the basics and then follows on with learning how to control your machine for free motion sewing. Using pieces of organza and netting you will create a beautiful textile panel, finished off with stippling stitching.
Free motion embroidery is as exciting as it sounds - so why not come along and try one of the most addictive sewing techniques around!
The free motion techniques you will learn about include:
How to control stitch length, size and direction

How to create stippling stitch
Where to begin with free motion writing
Drawing with free motion embroidery
WHAT DO I NEED TO BRING TO THE CLASS?
You will need to bring the following items with you:
Sewing machine - including its accessories and tools
Free motion embroidery foot - to fit your machine

Embroidery sewing machine needles (size 75 or 90)
Machine instruction manual
NEXT CLASS DATES
PLEASE NOTE THAT ALL CLASSES ARE SUSPENDED UNTIL FURTHER NOTICE DUE TO THE CORONAVIRUS PANDEMIC.
We are currently unable to give future dates or take bookings whilst things remain uncertain.
Thank you for your patience during this time.