A Look Inside.....Bernina Stephanie Morgan
Posted on
Ever wondered what goes on behind the scenes of one of the UK's biggest sewing machine companies, Bernina UK? We were lucky enough to find Stephanie Morgan, a Bernina UK sewing expert and Educator. Often found filming amazing tutorials for some truly inspiring projects on Bernina UK's website, Steph was kind enough to answer some of our questions.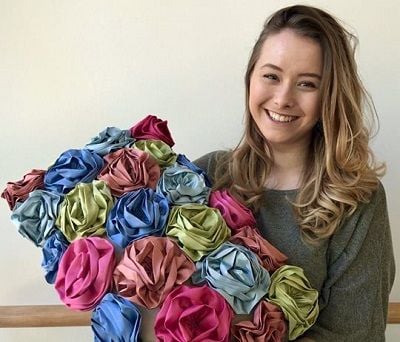 Hi Steph! What brought you to work in the sewing machine industry?
I've always been interested in creating art using textiles, especially manipulating fabrics. I completed my degree in Fashion Design and luckily from there I was asked to become a lecturer at my local university teaching on an Art Foundation Course. I had an e-mail regarding a job to be a sewing consultant, I applied, and here we are 2 years later!
What does a typical working day at Bernina involve?
People ask me what I do for a living, and it is difficult to put into a nutshell as each day can be totally different, yet it will always start with a morning coffee while checking e-mails if I'm in the office. One day I could be assisting with people having difficulties with their machine or needing advice on how to use a particular foot. I could be creating a project for the e-mail newsletter or a workshop that I am teaching for a Bernina Dealer. There are times that I am out of the office, this is when I am visiting dealers or working at exhibitions.

What's your favourite product from Bernina?
I have to pick just one?! I would say that with Bernina, I love the wide range of feet and accessories that have been highly developed. There is a sewing foot for every sewing technique that can assist to give you the best precision while you're sewing, you don't get anywhere near as many feet or the quality with any other sewing brand. The Bernina Circular Motion Attachment #83 – this accessory screws onto the bed of your machine, you attach your fabric to it and it assists in creating perfect circles. The results that you can get can be so versatile depending on the fabrics, techniques and presser feet you use. Applique, twin needle, cording and decorative stitches to name a few. My favourite machine would be the 350PE. This machine is great for taking to workshops due to the compact size. I find it simple to use and brilliant for all ages and levels of sewers.


What's your top tip for choosing your dream machine?
Remember that you may be interested in a different sewing techniques in a few years' time. Make sure that you can grow into your machine, you do not want to be limited by your machine and have to purchase a new one in a few years as it doesn't do what you want it too. Chat to your authorised dealer, get a feel for the machine and buy for the future.
What's your favourite part of being in the quilting community? Any memorable moments?
Due to my textiles fashion background, my quilting journey is at the very beginning. My favourite part is working at the quilting exhibitions and seeing all the intricate quilts and new gadgets.