A Look Inside.....Bernina's Hannah Blackbourne
Posted on
Ever wondered what goes on behind the scenes of one of the UK's biggest sewing machine company, Bernina UK? We were lucky enough to find Hannah Blackbourne, a Bernina UK sewing expert and Educator. Hannah was kind enough to answer some of our questions.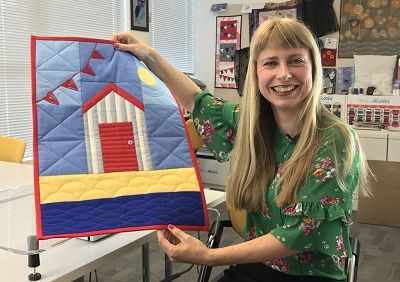 Hello Hannah! What brought you to work in the sewing machine industry?
I have always loved textiles and sewing since I was a teenager and have worked in the industry since gaining a degree in Embroidery at MMU. I got my first Bernina as a 21st birthday present and haven't looked back since. I have worked in a number of different areas of fashion and textiles including designing embroidered fashion fabrics for the high street to running my own multi-head embroidery company. I have now been with Bernina for 7 years.
What does the typical working day at Bernina involve?
A typical day at Bernina involves answering customer or Bernina dealers' questions on machines and software and organising the Bernina foundation courses or teaching the classes. One of my favourite parts of my job is learning new techniques and accessories and creating samples to show them off at their best. It's wonderful to imagine all the creative ways our fabulous Bernina owners are going to use them.
What's your favourite product from Bernina?
That is a very hard question and it changes all the time as there are so many great machine features and accessories. I think at the moment my favourite function is Endless Embroidery on the 790 & 880 plus models. This allows you to line up repeat embroideries perfectly when using the embroidery unit but you can also use it to create lovely embroidered fabrics with the decorative stitches imported from the sewing machine. I then use these fabrics in my patchwork. I also love the Ruffler Foot 86, I put ruffles on everything.
What's your top tip for choosing your dream machine?
I think investing in quality really pays off as a well-made machine makes sewing more pleasurable. I would recommend buying a more advanced machine than you think you will need as this will allow you to grow, you never know what will interest you in the future.
What's your favourite part of being involved in the quilting community? Any memorable moments.
My most memorable moment has to be our Quilt for the Queen project for Her Majesty's 90th Birthday. I helped to organise the project and create the central embroidered panel which was a portrait based on a photograph of Her Majesty as a young woman. Last year I got to visit Buckingham Palace to present the quilt to a member of the Queens staff, it was such a magical moment.