Meet the Designer: Mike Fitchett
Posted on
We are not only lucky enough for Mike Fitchett to come to the shop and host amazing classes, but he very kindly agreed to let us interview him.
A passionate artist for many years, Mike has turned his hand to quilting. He creates stunning scenes and landscapes with bold block colours, like this beautiful piece called "Heart of the Alps" sketched on location at the end of the winter snows, drifts having accumulated in gardens and piled high on the chalet roofs (quilting and applique, 127x93cm).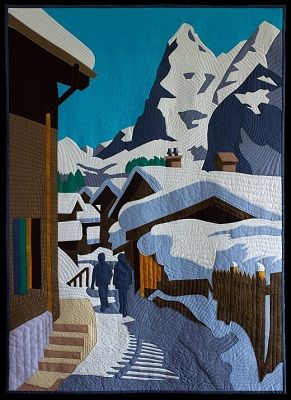 Where do you draw your inspiration from? Which artists inspire you?
My background is in Graphic Design, which has led to my interest in printing for advertising, in particular the vintage travel posters style. The bold blocks of colour lend themselves to designing with fabric, and the subjects link with my other passion for drawing on location. My sketchbook is therefore my working inspiration, and the search for scenes and ideas when travelling for days out and holidays give me a focus. I enjoy the poster art of Frank Mason and Norman Wilkinson to name just two, and the work of what I would call modern Impressionists such as Ken Howard and Peter Brown. Their work, through skilful draughtsmanship and brilliantly observed tonal and colour values, places the viewer firmly into a scene as if experiencing it for real. But I also like to draw inspiration from less likely sources, such as modern sculpture, ceramics, and abstract works. Artists such as Antony Gormley, Grayson Perry and the American Abstract Expressionist Clyfford Still spring to mind. For depictions of animated figures I enjoy the work of David Remfry, for atmospheric landscapes the works of Sir Kyffin Williams, and the heightened graphic computer art effects in the standalone pieces and paintings of Michael Craig-Martin.
Do you think creativity is something that can be taught or nurtured? What are your tips for people to unlock their creativity?
I think everyone has a spark of creativity inside them, and the key to unlocking it is in the hands of that individual. But that creative spark must be nurtured, through tuition, observation, and practice. This process extends far beyond the chosen media or subject matter of the artist, whether in paint, clay or fabric, and whether representational or abstract. Appreciating all works of art, not necessarily liking them, but approaching them with the intention of understanding a story behind them is a vital part of the artist's journey. I ask myself after a visit to an exhibition "did that make you want to go away and get on with your own work?" and the answer is nearly always a decisive "yes" even if my own art is poles apart from what I've just been looking at. For me, looking at the work of other artists and knowing a little about their life and the messages they are getting across reflects back on me as an artist. I well remember experiencing the fabrics and paper cuts of Matisse at the Royal Academy and realising that I had not just learned about him but also about myself. I suppose it might be a kind of intangible bond that links all creatives together in some way or other.
"What a Shambles" By Mike Fitchett from a sketch in the famous narrow medieval street at the heart of the old city of York (quilting and applique 136x99cm).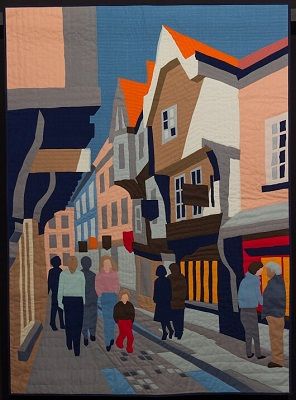 Do you ever feel unmotivated whilst designing, if so how do you keep yourself motivated and inspired?
There can't be art without "artist's block"! The project you are working on is always more difficult and less appealing than the one you'd like to start on instead! I think the key to motivation is to set yourself achievable goals - if you do you will find that the goal posts really do move, and in your favour. There are a few tricks worth trying to keep a project going such as stepping right back from your work and viewing from a distance. A college tutor of mine many years ago would produce a minimising glass from his pocket - it was quite literally a reverse magnifier, and your design would appear as if viewed the wrong way through binoculars. The same tutor suggested turning your design upside down which was almost akin to seeing it for the first time. Taking a fresh view of your work like this might save having to put it away for a spell, but if you do that it is surprising how it can look not so bad after all, and how any problem areas become more easily dealt with. I find it is worth having all the information to hand right from the start, so that I'm not struggling to plan my piece. We are spoilt for choice when it comes to information and picture references available online. But perhaps my best motivation is in being part of an artistic partnership. Such a relationship is a great boost to both individuals, and I know that in that respect I am extremely lucky. Meeting up with an art club, joining a sketching group or attending a life drawing class has worked well for me too, and all interaction with other artists broadens your outlook and can quickly lead you on to new ideas.
What's your development process for your designs, if any?
My sketchbook is my constant companion, and the springboard of my design ideas. I can recall instances of seeing quilt designs quite suddenly jumping out at me when seeking them on a holiday or exploration. Otherwise, browsing back through my sketchbooks, all hopelessly non-catalogued and organised in spectacular disarray, serendipitously brings other ideas back to mind. But my actual design process is more structured, and I can be somewhat painstakingly methodical in my approach to preparing what i call a "blueprint" for a final piece of studio quilt work. I suppose that stems from my design and production for print or manufacturing background, almost as if I were commissioned to plan something for others to make. In the same way that I would design in accordance with a production process, I design in respect of what materials are in my stash or may be easily obtained, and bearing in mind the practical issues of cutting and stitching fabric. For quilt design, colour paper has proved to be an effective planning medium, as a good way of trialling colour and tonal values together in the form of a collage.
"Heart of the Highlands" By Mike Fitchett. Based on a view across Loch Eil towards Ben Nevis, this design includes elements from other location sketches including the caledonian pines and the fishing vessel sketched from our rowing boat (quilting and applique 130x98cm).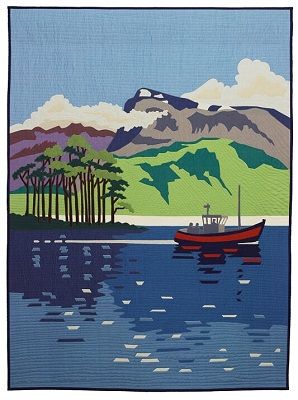 What's your favourite part of being involved in the quilting community? Any memorable moments?
The quilting community is amazing in its diversity, friendliness and inclusivity. It is quite literally the glue that bonds everyone together and the underlying reason that keeps them quilting. It gives opportunities for all skill levels and creative styles to be shared, shown and appreciated on a truly global platform. It is so important for artists of all disciplines to have the chance for their work to be seen, and the area groups, the Quilters Guild, magazines, competitions and exhibitions give everyone the opportunity to participate, and have the same thrill that I have experienced when their work has been hung and is there for all to see. To locate one of my pieces in an exhibition, and watch as others examine and photograph it - these are my most memorable moments.