A Look Inside... Brother Sewing Machines
Posted on
This month we caught up with Rachel Espin, Regional Manager and Product Specialist for Brother Sewing Machines UK, to get inside knowledge about one of our favourite sewing machine brands.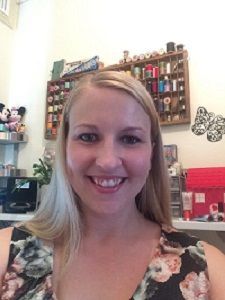 WHAT BROUGHT YOU TO WORK FOR BROTHER?
I've always loved sewing and working with textiles – most of my female relatives sew so I've grown up with sewing, and I always specialised in textiles throughout my education. The opportunity to work for Brother came up while I was working in a fabric shop and sewing school, a job which I loved, but the prospect of this exciting new role still within the sewing industry was too good to miss!

IS THERE A MACHINE OR EQUIPMENT YOU CAN'T LIVE WITHOUT?
I would probably say the Direct Dual Feed foot. It's a motorised walking foot designed for quilters when they're sewing multiple layers of fabric together, but I use it for everything. You can swap the feet over for other jobs too such as stitch in the ditch and piping but my favourite is couching!
(Have you got a Brother Innov-is VQ2, V5, V7 or XV? The Direct Dual Feed Foot will fit your machine too!)
WHAT'S YOUR FAVOURITE PRODUCT FROM BROTHER?
I love them all! How can you choose?! I'm making a lot of embroidery samples at the moment, so my current favourite Brother would be the PR1050X. It's a 10-needle embroidery machine, and it's quick, accurate, and a life saver for me. I can set up a design and let it do what it does best, not having to keep changing the threads, allowing me to get on with other sewing. I can also scan in a drawing and it will stitch it out for me!
(You can take a look at our Brother Sewing Machines, Embroidery Machines and range of Brother Accessories in store or via our online shop!)
WHAT'S YOUR TOP TIP OR PIECE OF SEWING ADVICE?
Never stop learning. Even if you think you know it all there's always something else you can learn. Along with change your needle regularly and thread your machine correctly! :)

WHAT'S BEEN YOUR ULTIMATE OR FAVOURITE DIY PROJECT?
I'd have to say it was making Gino the Giraffe for our Africa themed samples. He is a 2-metre-tall, 1-metre-wide giraffe and he was a real labour of love but I enjoyed the entire process as it allowed me to be really creative. I made his spots out of fat quarters that I had layered with different fabrics and textures, stitched them down with decorative stitches from the sewing machine, and then selected small embroidery designs relating to the Africa theme to stitch on top. Then I cut these up to create the spots, and stitched them all in place on the giant fleece giraffe background, cut out on my dining room floor! You might see him as he travels to the various sewing shows around the country. If you do see him, look closely to see the embroidered animals stitched onto the spots!