BEGINNERS PATTERN CUTTING with Janet Williams
(Some equipment required - see below for details)
This course is designed for people who would like to start drafting their own dressmaking patterns.
During this two-day course you will learn how to make patterns from scratch to fit your own personal measurements and shape. You will draft skirt and bodice blocks and discover how to convert them into patterns.
During the course you will learn about:
The principles of pattern cutting

The basics of a good fit

Tools of the trade

How to take your measurements correctly

Making skirt, bodice and sleeve blocks

Converting your blocks into patterns

Types of ease

Balance marks and dart manipulation

Sleeveless patterns, lingerie and evening wear

WHAT DO I NEED TO BRING TO THE CLASS?
You will need to bring the following items with you:
A copy of Winifred Aldrich's Metric Pattern Cutting for Women's Wear (see note below)
Pencils and pens (various colours)

Eraser and pencil sharpener

Paper scissors

Ruler

Calculator

Winifred Aldrich's Metric Pattern Cutting for Women's Wear (6th Edition) is the textbook we will be working with. You will need to have your own copy during the class. You can purchase a copy of the book in our shop, either before the class or on the day. Our price is £32.99.
The rest of the materials will be provided for you.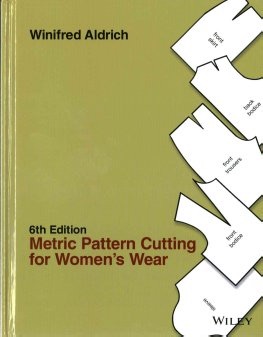 NEXT CLASS DATES:
PLEASE NOTE THAT ALL CLASSES ARE SUSPENDED UNTIL FURTHER NOTICE DUE TO THE CORONAVIRUS PANDEMIC.
We are currently unable to give future dates or take bookings whilst things remain uncertain.
Thank you for your patience during this time.