BEGINNERS COMPUTERISED MACHINE EMBROIDERY with Liz Keegan
Please note that this class is for computerised embroidery machines that use an embroidery unit.
This class is designed to help get you started on your computerised embroidery machine.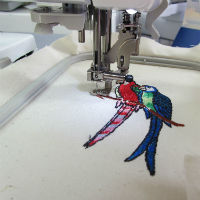 Learning about the various embroidery threads and stabilisers can often feel like trying to navigate a minefield. This class is designed to remove the mystery and confusion! Find out how to avoid mistakes, produce beautiful pieces of work and - most importantly - how to love your machine.
Our teacher, Liz Keegan, founded Flair magazine - the UK's first magazine dedicated to computerised machine embroidery. She published her first book on the subject in 2014.
During the class you will learn about:

Different stabilisers and when to use them

How to hoop your fabric correctly
Which needles and threads to use

WHAT DO I NEED TO BRING TO THE CLASS?
You will need to bring the following items with you:
Embroidery machine with its embroidery unit

Embroidery machine accessories - including the embroidery hoops, embroidery foot and screwdriver

Machine instruction manual
Embroidery machine needles
Bobbin fill thread (and bobbin)
One metre of cotton fabric (quilting cotton fabric, plain, any colour)
(The required fabric, bobbin threads and needles can be purchased from us on the day)
SPECIAL CLASS OFFER:
Because we pride ourselves on getting you off to the best start with your new machine, we offer a free 'Beginners Computerised Machine Embroidery' class with every embroidery machine purchased from us. (This offer lasts for 12 months after the machine is purchased.)
NEXT CLASS DATES
PLEASE NOTE THAT ALL CLASSES ARE SUSPENDED UNTIL FURTHER NOTICE DUE TO THE CORONAVIRUS PANDEMIC.
We are currently unable to give future dates or take bookings whilst things remain uncertain.
Thank you for your patience during this time.