Bag Making Masterclass with Jan Tillett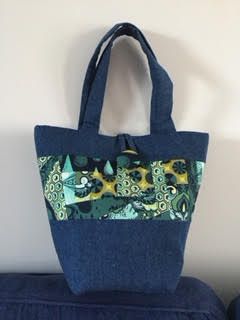 During this workshop you will construct a tote bag, concentrating on how to achieve a professional finish.
There will also be loads of hints and tips for all of the bags you can make in the future - including how to draft your own bag pattern and the importance of interlinings (and which one to use when!)
If you have a piece of embroidered fabric or patchwork panel which you would like to incorporate into your bag please bring it to the workshop.
To book your place, or to register your interest for another date, please phone us at the shop:
01392 275660
You will need to bring a few materials along with you including your own sewing machine, which are listed below:
Your sewing machine with all standard accessories
Standard sewing foot and walking foot if you have one
Sewing kit including pins, scissors (fabric and paper), tailors chalk etc
One metre of fabric for your bag – cotton or linen works best.
One metre of interlining – Jan will advise on different types of interlining at the workshop so we recommend you wait to purchase this on the day.
One metre of lining fabric – can be cotton, or polyester lining – add a bit extra if you want to put a pocket in your lining.
Sewing threads in appropriate colours

Notebook and pen/pencil

Lightweight card - A2 size will be plenty

Ruler and tape measure

Fastenings – magnetic clasp, button etc. (optional)
Small quilting ruler (12" x 6" is sufficient), cutting mat, rotary cutter – not essential, but may be useful.
You will also be emailed this list of requirements when you book your place. We stock everything you need for this workshop in our shop, so please pop in and we can help you find everything you need.
NEXT CLASS DATES:
PLEASE NOTE THAT ALL CLASSES ARE SUSPENDED UNTIL FURTHER NOTICE DUE TO THE CORONAVIRUS PANDEMIC.
We are currently unable to give future dates or take bookings whilst things remain uncertain.
Thank you for your patience during this time.