FREE MOTION APPLIQUE
£49 one-day class, 10am - 4pm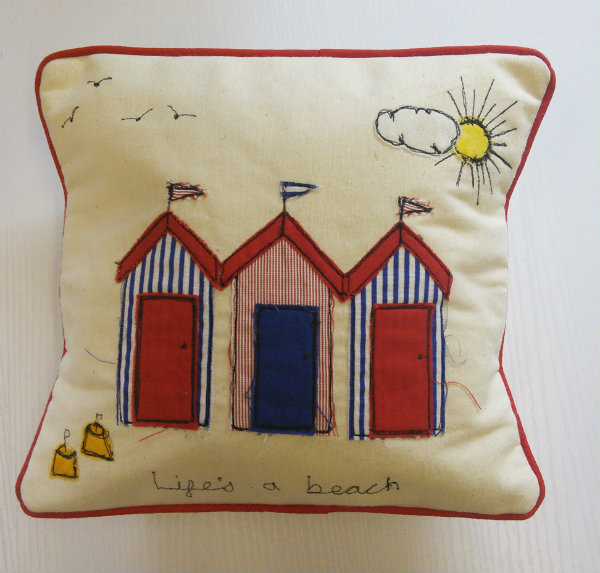 This class combines free motion embroidery with applique to make a delightful 9" beach hut cushion cover.
The course is designed for people who have already taken Liz's free motion embroidery beginner's course and would like to continue experimenting with the craft. You will see how to start applying free motion to your projects by combining it with raw edge applique, before adding doodles and writing. This is a great way of personalising your homemade projects whilst gaining new confidence in free motion stitching.
The class also covers sewing up a simple little cushion cover and adding piping to the edges of your cushion.
The techniques you will learn about include:
Raw edge applique
Free motion writing with your sewing machine

Adding piping to cushion edges

Sewing a simple cushion cover

Please note: To allow you to gain the most from this class, it is preferred that you have attended our Free Motion Embroidery for Beginners class first.
WHAT DO I NEED TO BRING TO THE CLASS?
You will need to bring the following items with you:
Sewing machine - including its accessories and tools
Free motion embroidery foot - to fit your machine

General purpose presser foot

Zipper foot
Embroidery sewing machine needles (size 75 or 90)
1000 metre black embroidery thread
Cream normal sewing thread
Machine instruction manual
Everything else, including the rest of materials and threads for the project, will be provided.
(Please note that the project is to make a cushion cover - a cushion pad is not included)
NEXT CLASS DATES:
DATES TO BE CONFIRMED - PLEASE ASK TO GO ON OUR WAITING LIST
TO BOOK PLEASE CALL OUR SHOP ON 01392 275660